Protecting Perimeters at the London Marathon
Posted on 26.04.2018 by admin, Stadium
London's Parliament Square is one of the world's most recognisable spaces, based in the heart of Westminster and towered by Big Ben. Usually a bustling centre for London traffic it was transformed on April 22nd into part of the final stretch for marathon runners. Protecting perimeters either side of Parliament Square was two HVM solutions provided and deployed by StadiumTM.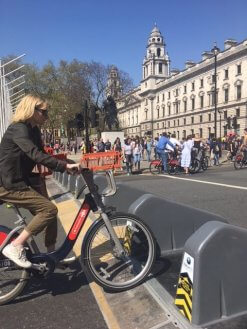 Collaborating with HVM manufacturers ATG Access and Rosehill Security, StadiumTM deployed over 60m of barriers on Sunday within the Square. The two forms of barrier being temporary, mobile and deployable by men.
Rosehill Securitys' 13 metres of Rapid Defender barrier took the StadiumTM team under five minutes to deploy. Just less than 60 meters of the ATG Access Surface Guard was deployed within an hour, the times of these deployments having little impact on the logistics and road closures of the event. Similar times were reflected at the end of the event day, Westminster Bridge and all roads opening an hour after the marathon had finished. Such attributes are vied for currently on the HVM market as traditional HVM solutions do not allow for this.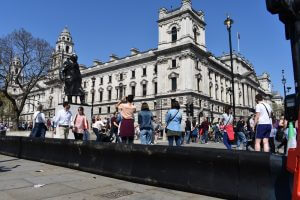 Over the years the security parameters of such events have changed and perimeters need to be protected. Currently in society divisions have arisen and we must do all we can to bring people together in safe and secure environments. In a recent survey commissioned by ATG Access 'Protecting the future of multifunctional cities' nearly a third of respondents stated they would choose not to go to an event due to concerns around the low levels of security. Bringing communities and families closer to events must be the end goal for all event services, councils and event organisers.
As an event services company, StadiumTM provide road closures within their Traffic Management services therefore this was the next step forward in event services security. The current methods used to close roads are nothing more than cones, signs, stationary vehicles and operatives. Managing Director, David McAtamney knew something had to be done, to become the first Event Services company to provide and deploy innovative HVM as a total solution on a hire and install basis. Within the same ATG Access survey 44% of respondents stated that they want to see barriers and bollards around the perimeter of public spaces. By allowing clients the option to hire and have a team install such HVM solutions is a first to the event industry and one StadiumTM are pleased to lead the way with.
The singing, dancing and the cheering as sport superstar Mo Farah sprinted by created an incredible atmosphere. The crowds gathered and the barriers supported footfall, cyclists, pushchairs and wheelchairs. To create the Square as a secure public space and protect the critical infrastructure of such a historical site is an honour and a step forward in temporary event security.